A few days back we told about Motorola's all new tablet XOOM. It looks like our prediction of Motorola XOOM's launch date has come true. Motorola Xoom is powered by Android Honecomb and happens to be the first Honeycomb based tablet. We have been hearing that Motorola Xoom will be released on 24th February  and will be retailing for a price ~ $800. Now, thats a really high price for a tablet.
UPDATE: Motorola XOOM up for pre-order at $1199!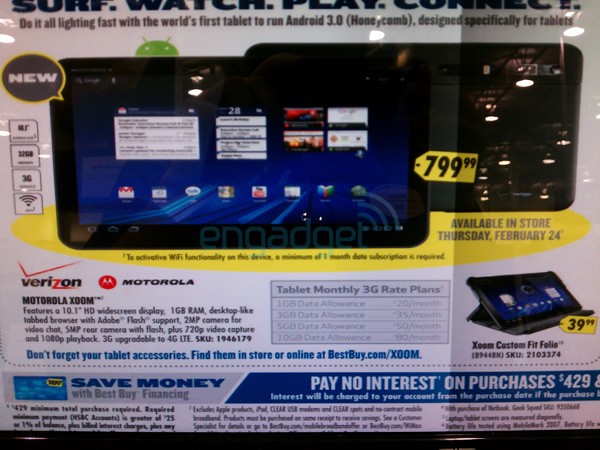 Engadget points to a leaked Best Buy flyer, that clearly shows the $799 retail price for the Motorola XOOM tablet. But when we look at the awesome specs of the Motorola XOOM tablet like the 2GHz Dual-Core processor, 10.1 inch screen, 4G, the price factor can be put back for sometime. Apple's top line iPad device retails for $829 but it's hardware specs are a bit on the lower side when compared to that of Motorola XOOM.
Some more facts about Motorola XOOM: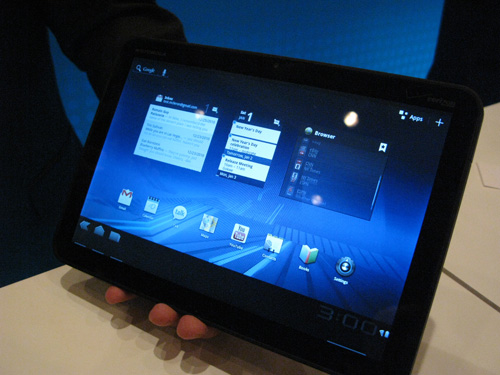 One more thing about Wi-Fi on the Motorola XOOM is that you won't be able to activate the Wi-Fi on the device until you subscribe for a month of Verizon Wireless service. Now this is something which users won't certainly like.  Verizon's Wi-Fi pricing comes to $20, $35, $50, and $80 per month for 1GB, 3GB, 5GB and 10GB data plans respectively. This increase the price of XOOM to almost $890!
via Knowyourcell, Source Engadget