With all the leaks and rumors about an upcoming tablet from Nvidia doing the rounds of the internet over and over again, we finally have some concrete information. NVIDIA has been working on the Shield Gaming Tablet for quite sometime now and is expected to launch it in the US & Canada on July 29, 2014 followed by Europe on August 14, 2014 and all across the world by Fall 2014.
UPDATE: This tablet has been launched now and you can buy it online from Amazon, starts US $299 onwards.
The Nvidia Shield Gaming tablet is powered by NVIDIA's own Tegra K1 processor which is quite expected and has 2GB RAM in it. The price of the Nvidia Shield Gaming tablet is US $299 (Approx. Rs. 18000 in Indian Currency) for the 16GB version and US $399 for the 32GB Version. Add $59, and you can get a Shield Wireless Gaming controller, made by NVIDIA.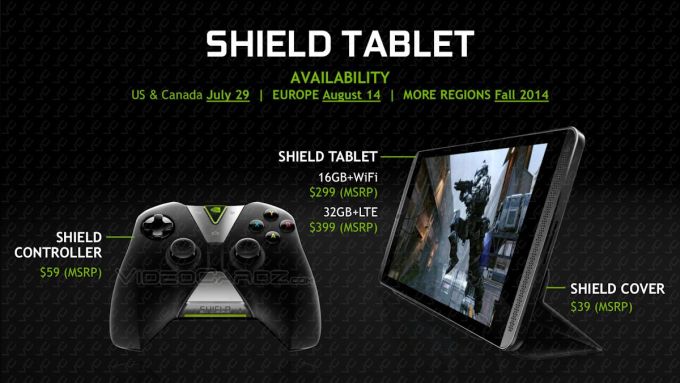 NVIDIA Shield Gaming tablet Specs
Has a 8 inch screen with a display resolution of 1920 by 1200 pixels
Powered by NVIDIA Tegra K1 Quad-Core ARM Cortex-A15 processor and 192-core Kepler graphics processing unit
Available in 16GB / 32GB internal storage editions. There is also a microSD slot that supports expanded storage of upto 128GB
5MP Front Camera & 5MP Back Camera
Network support – 3G, GSM, Edge, Wifi, Bluetooth 4.0
Dimensions: 8.7 by 5 by 0.36 inch
Weight: 14 ounce (396 grams)
Boasts of 10 Hours run-time on single charge
Special Features: Support for NVIDIA's gamestream technology that lets you stream games from your PC to the tablet and DirectStylus 2 system for stylus input.