2013 just keeps getting more and more interesting when it comes to gaming accessories. iFrogz, owned by a company named Zagg, that is a heavy supplier of nifty mobile accessories, is set to roll out its Caliber Advantage mobile game controller at CES 2013 in Las Vegas, Nevada. The lucky people attending this year's invitation-only event will get to see it up close and note its performance and design for use on the iPhone and iPod Touch.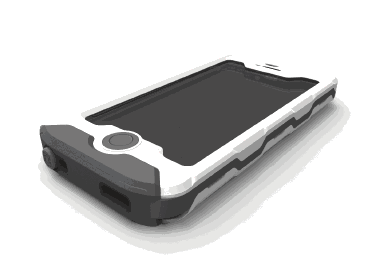 The timing of this particular device could not be any better. The rollout of more high performance iOS games that demand more precision in play has had many gamers frustrated by the poor control features on the iPhone and iPod. It's possible that Zagg has had the Caliber Advantage in research and development for awhile, but it seems more likely that they've heard the needs of the gamers and responded in a huge way.
What's it look Like?
The Caliber Advantage score winning points with the ultra sleek and trim casing and slide-out game controls. It will improve the gameplay experience for mobile gamers due to the sheer small and compact size. It fits in your pocket to go wherever you need to go. The slide-out controls feature both a left and right, so improved control over the iPhone and iPod Touch games will be a huge selling point. One of the top complaints to iOS gaming has been the lack of better controls for the fingers. It appears SOMEONE has been listening.
How does it Work?
The Caliber Advantage attaches securely to the mobile device and connects via Bluetooth technology. It's certainly a reminder of the Nintendo Wii U or the Sony PlayStation Portable. It easily turns your iPod or iPhone into a cool little portable game console without spending a ton of money. Full accelerometer access is left intact, which means new gaming control technology isn't hindered in any way. That opens the road to opportunities in the future for incorporation of the technologies.
A Step up for Zagg
There is no denying that Zagg is stepping up its game when it comes to collaborating with the heavy-hitters in the gaming industry. The opportunities presented to the company through this venture are mind-boggling. It will change mobile gaming by simply performing a function. There's no popularity contest to win on game themes, or app features. It simply needs to plug into the device and work.
It will benefit gamers across the board, meaning it has no limits on demand. That spells great income opportunities for Zagg. The brand loyalty from gamers that have needed this type of resolution to a mobile gaming problem should be overwhelming. Everyone from the beginning gamer to the everyday addict has asked for a more comfortable way to play the games. This is the answer, in a compact, easy to carry solution. If the control solution isn't reason enough to celebrate, how about added enhancement of audio?
Yes, they plan to offer accessories to compliment the iPhone and iPod that add better audio. Look out iOS gamers. It might be a better year than you thought!
The ChAIR Entertainment division of Epic Games collaborated with iFrogz in fully integrating the Caliber Advantage to use with the Unreal Engine 3. Epic Games is the creator of the huge hit game Infinity Blade for both the iPhone and iPad. If anyone knows what iOS gamers are wanting, it's Epic games. It's amazing to see makers of the device, game apps and accessories come together to fill a need of the consumer. It might mark a new age in partnerships that benefit the gamers. One can always hope.
Author Bio: Jason Phillips has contributed this post. He is a regular guest author at a gaming site Truck Games 365. He enjoys playing soccer at his free time.