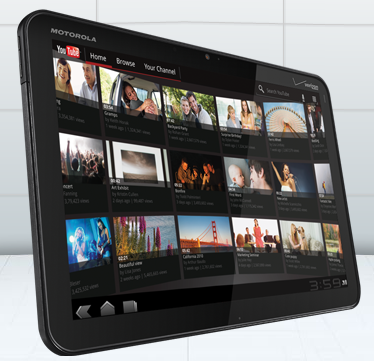 Motorola's new tablet, Xoom, is turning out to be one of the hottest tablets around. True, it is not released yet but the expectation surrounding it is enormous. That expectation is partly fuelled by its amazing specifications and Android 3.0 Honeycomb and the fact that it got the best gadget and best tablet awards in CES 2011.
However, amidst all the hype created by its Tegra 2 Dual Core Processor and Android 3.0 Honeycomb, there is a little mentioned thing in Xoom which no one has given much attention to – a barometer.
Sensors like accelerometer, ambient light sensor, gyroscope, proximity sensors etc. are nowadays common in smartphones. But not barometer – in fact, Xoom is the first phone or tablet to have a built-in barometer.
But what features can a barometer add?
From Wikipedia:
A barometer is a scientific instrument used to measure atmospheric pressure. It can measure the pressure exerted by the atmosphere by using water, air, or mercury. Pressure tendency can forecast short term changes in the weather. Numerous measurements of air pressure are used within surface weather analysis to help find surface troughs, high pressure systems, and frontal boundaries.
Is Motorola making the Xoom a super fantastic weather prediction device in addition  to all the other features it already have. Possible. But Motorola has not made any comment on any such feature.
Or, it is also possible that the barometer does not do anything now. Why else would Motorola keep quiet about it if it does something amazing? Maybe they added it because Honeycomb supports it and they will add an application for it in a future update.
Talking about barometer support in Android, Honeycomb is not the first Android to support it. Google added support support for barometer sensors in Android 2.3 Gingerbread. It would not surprise me if Google decides to use this feature to crowd source weather prediction in the future.
What are your theories about this? Let us know through the comments.
Further Readings:
1. Barometer in Xoom. Will Google try to improve weather prediction?