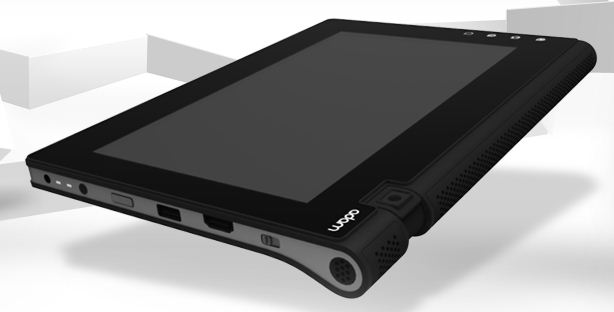 Remember Notion Ink, the startup from India which had released the Adam Android tablet? The CEO of Notion Ink, Rohan Shavan, has announced that they are releasing their second tablet – the Adam II. He also announced that Notion Ink has partnered with Texas Instruments and that the Adam II (Detailed specs and features of Adam 2) will use TI chipsets.
Notion Ink has partnered with Texas Instruments (TI) Incorporated for its next generation Adam II Tablets. Adam II will be using OMAP44xx processor along with other TI components like Wi-Link 7.0 and Phoenix Audio Power Amplifiers.
Shavan's announcement also includes many details about what we can expect from the Adam II. Here is a concise list:
Android 4 "Ice Cream Sandwich" – The Adam II will be powered by Android 4 "Ice Cream Sandwich", which really is no surprise. Like the original Adam, which ran a heavily modified Android 2.2, we do not expect to see vanilla Ice Cream Sandwich for the Adam II. If they do decide to go with a heavily modified version of ICS, it can be a turn off for many as it means updates will take time. Even big companies like Samsung, HTC etc. struggles to release updates quickly because of their custom skins.
OMAP44XX – One of the key aspect of the partnership with Texas Instruments is the OMAP44XX processor. The latest OMAP44XX processor is the OMAP4440. It is a dual-core processor with a clock speed of 1.5GHz and includes the PowerVR SGX540 GPU. The OMAP4440 supports 1080p 3D display and 12MP 3D camera. Of course, the Adam II will not have all these features because of power considerations. Shavan specifically mentioned that they picked the OMAP44XX for its multi-tasking performance and low power consumption.
An interesting part of Shavan's announcement was about the Adam II's "Modular Based Software Architecture". This is what Shavan wrote:
Adam II will release the world's first Modular Based Software Architecture which will further expand the scope of application development and use nearly every single hardware feature in a "user customizable" application. Drag and drop features will enable easy application modification and Open Source Module will further expand the use cases and tablet deployment.

This System will help consumers, professionals and students become productive as they will be able to use the tablet as a logic analyzer, medical imaging device, signal acquisition and processing, 3D modeling and multi-media.
This sounds great on paper – but you have to question if Notion Ink is bite off more than they can chew again. Remember that Notion Ink had everyone's attention when they announced the original Adam's features, but the actual product launch was marred by delays and undelivered promises.