We have reported earlier about different hardware that might go into the making of iPad 3. I bet that these rumours will not stop until March 7th, where Apple itself will announce the next gen tablet to the entire world. Along with you guys, I am also eagerly waiting for that day!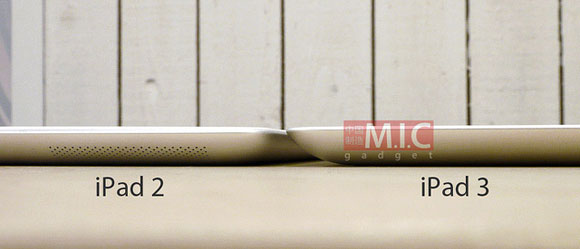 The news for now is the leaked side image of iPad 3 and is expected that the model would board this frame. Leaked images were comparing existing iPad 2 models and the upcoming iPad 3. They suggest that iPad 3 will be having a gradual taper at the edges rather than iPad2 and the difference in size is not expected to be much large.

Though not exactly measured, the size difference could be around 1-1.5 mm with iPad 3 being in the thicker side. Sources also mentioned that iPad 3's camera lens hole is larger indicating for a better quality camera which might go up to 8 Megapixels, just a guess.
With every feature being guesses and announces date coming close, market analysts and customers are pretty much eager to know more details. As already mentioned, March 7th will turn out to be the most important day of the year!