I always knew this was coming! Though it is hard to believe, it is true. Wondering of what am I talking about? It is about the sales of tablets in the last quarter of 2011. To the surprise of many, Amazon has gained a huge leap in share percentage and the Apple's base has decreased considerably in tablet market.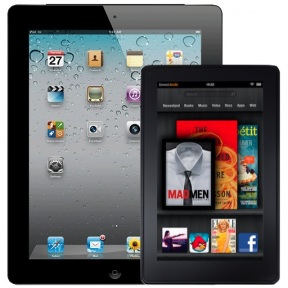 In exact terms, Apple's market share dropped from 64 percent to in Q3 to 57percent in Q4 and Amazon is with 14 percent currently. The research was performed by iSuppli which has shown indications of stiff competition Kindle has given to iPad models. We had earlier told you about the stunning sales figures of Amazon Kindle.
This has also revealed that customers might have opted for iPhone 4S rather than iPad2; also not crossing down the option of 200$ Kindle Fire tablet. For a record, there were 15.4 million iPads and 3.9 million Fire tablets sold in the Christmas season.
With iPad 3 soon expected to hit the market, we can expect Apple would bounce back showing its full power. Also, Samsung Galaxy Tabs and Noble's Nook tablets were in 3rd and 4th positions respectively with shares of 8percent and 7percent. Will iPad 3 come to Apple's rescue? Let's wait and watch!