FThe much awaited Samsung galaxy Note 10.1 will be ready for grabs at the Mobile World Congress (MWC) 2012 at Barcelona in a few weeks. Samsung's official website mentioned that developers can experience this magnificent gadget at MWC.
However, the maker has already announced that it will not be coming out with Galaxy SIII in this exhibition. Interesting part is that, Samsung has previously said that it would release 5-inch smartphone which also can be used as mini-tablet. The current news now created more confusion with the release of 10.1 inch gadget.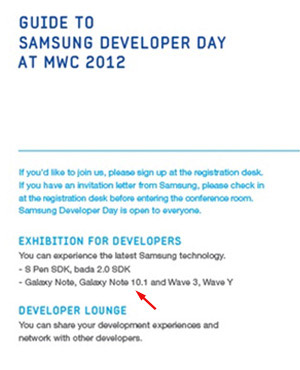 S-pen Stylus will be an added advantage to the 'Note' when compared to the other existing tablets in the market. Regarding the specifications, it is safe to assume that the device will come with Ice Cream sandwich version of Android and also might feature a quad-core processor; Confirmation officially is not available though.
Price will be a defining factor for the gadget's performance in the market. I am eagerly waiting for the MWC to kick-start so that more details come out. For a record, the Barcelona event will begin from 26th February. You are also waiting right? Let us know what you are expecting from this model.