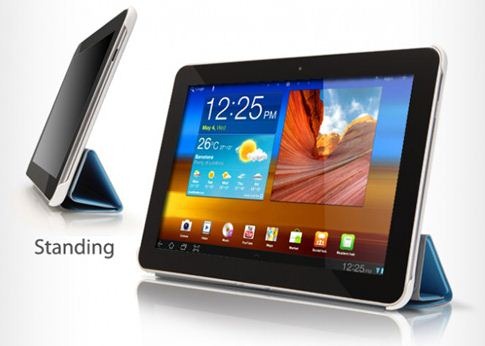 Remember Anymode's cover for the Samsung Galaxy Tab called the Smart Case? After an uproar for being a blatant rip off of the iPad's Smart Cover, Samsung has finally pulled it from all its stores.
Samsung claims that they did not certify Anymode's Smart Case with the "Design for Samsung Mobile" mark. This is what Samsung wrote:
As a general practice, Samsung Electronics reviews and approves all accessories produced by partners before they are given the "Designed for Samsung Mobile" mark.

In this case, approval was not given to Anymode for the accessory to feature this official designation.  We are working with Anymode to address this oversight and the product has already been removed from the Anymode sales website.  The product has not been sold.
While there is no doubt that the Smart Case is a complete rip off of Apple's Smart Cover, it is funny to see that not one of the Apple fans said anything when Steve Job revealed the "magical" Smart Cover, which too was a rip off of the inCase Convertible Magazine Jacket.
At least Samsung pulled the product when it became clear that it was a rip off.