Lenovo has just announced its first Windows 8 based tablet called the Lenovo Ideapad Yoga. This is in line with the range of IdeaPad tablets from Lenovo for consumers and businesses. The IdeaPad Yoga is said to cost around 1200 pounds (Approx. Rs. 90,000/- in Indian currency or USD 1800) which is obviously very expensive. We have earlier told you about the range of IdeaPad tablets from Lenovo which run on Android OS.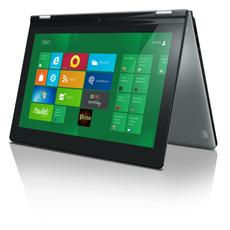 Lenovo already has a Windows 7 based tablet – The IdeaPad P1. However, since Windows 7 was not actually meant for tablets, the Windows 8 tablet from Lenovo – Yoga is something which you might actually try taking a look at. Let us now find out what the specs and the features of the IdeaPad Yoga are:
The IdeaPad Yoga serves as a 'multi-mode' notebook that can easily transform into an ultrabook laptop from a 13.3in Windows 8 slate.
1600×900 resolution HD+ touchscreen