Samsung has now officially announced the Galaxy Tab 2nd edition in 7 inch and 10 inch screen versions. All the editions of the Galalxy Tab 2 will be available for sale from April 22 2012 onwards.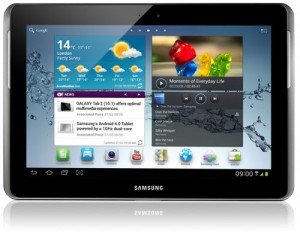 Samsung has priced the Galaxy Tab 2 – 7 inch version at US $249 (Approx Rs. 12,800 in Indian Currency) and the Galaxy Tab 2 – 10 inch version is priced at US $399 (Approx. Rs. 12,800/- in Indian Currency)
Galaxy Tab 2 runs Google's latest operating system – Android 4.0 Ice cream sandwich and has a special Tablet specific version of the TouchWiz interface onto it.  Apart from the 10 inch and the 7 inch versions, Samsung will also launch a 10.1 inch version for the Galaxy Tab 2 soon.
Let us now take a look at some specs and features of the Samsung Galaxy Tab 2 Tablet and lets find out if this one should really be your next tablet:
Display resolution 1280×800 (10 inch version), Display resolution 1024×600 (7 inch version)
1.0 Ghz dual-core processor
TI OMAP 4 processor (Note: no Tegra 2 processor)
Three versions: 8, 16 and 32 GB
2 megapixel camera with LED light
Capable of full 1080p playback at 30fps
Wireless networking: GPS, WiFi, Bluetooth