Here is some news from the latest event Mobile World Congress, MWC 2012! Apart from exciting smartphones and gadgets, LG has also released an accessory into the tech world. LG has displayed WCD-800 wireless charger at the grand stage and the device looks promising and attractive.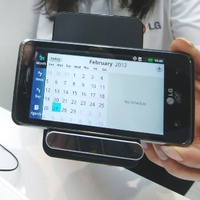 The device comes out with a cradle design and the smartphone can be placed in portrait or landscape orientation during charging, enabling the users to enjoy any video or movie while charging.
Claiming it to be a conventional wall charger, the device has a width of 78.5 millimetres and is wider than its previous version. It helps for the larger contact area between handset and the accessory; making the charging time lesser and efficient.
The model is expected to be released first in Korea and then moves to North America by the end of Q2, 2012. The exciting news is that; the charger will be compatible with all devices supporting Qi standards for wireless charging. The maker did not reveal any price details but are expected to be out soon. I guess you are eagerly waiting as it definitely reduces our charging woes. Are you feeling the same?