According to me, this is the best release of CES so far! We have tablets accompanying a dock and make us give the experience of working on a notebook and are definitely worth having such device with us. But here comes a model, LightPad G1 is one such of a gadget but suits to your smartphones guys! Amazing technology!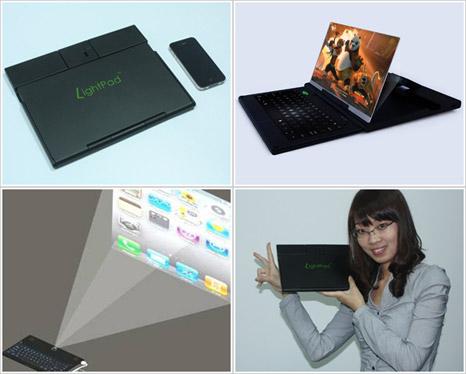 The LightPad G1 relies on Pico projector technology for this astonishing creation to transfer the image onto a screen which measures to 11-inches including projector's innards. The energy efficient innovation displays 500 nits of brightness which is 2.5 watts only!
It is not over yet! This gadget includes the slim factor that would increase the ease of portability and use even walls for displaying your screen. It is mounted with a QWERTY keypad helping in easy documentation of your heavy work. All of major platforms are supported by this magical work including Apple, Windows phones, and Blackberry OS and Android versions.
Resolution pattern is quite impressive with 854*480 pixels and the upgraded one is going to be more exciting with a resolution of 1280*720 pixels. Waiting for it! Even I am one of them! Price is not yet out but mid-range price will help it rock the market for sure!