DataWind has finally launched their low cost tablets – the UbiSlate 7+ and the UbiSlate 7C. Both the tablets have 7 inch touchscreens and has support for SIM card and Wi-Fi. If you remember, DataWind is the company behind the low cost Aakash Tablet, which has already broken Apple iPad's sales records.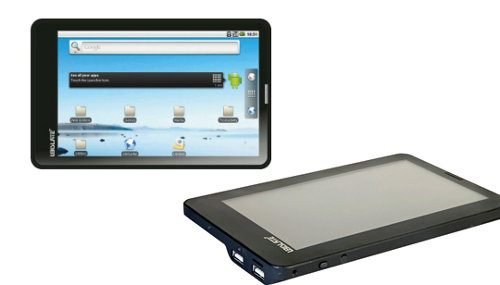 The UbiSlate 7+ Tablet is Priced at Rs. 2999/- whereas the UbiSlate 7C Tablet is priced at Rs. 3999/- The price difference comes on the fact that the UbiSlate 7+ has a 2GB internal memory and a resistive touchscreen whereas the UbiSlate 7C has a 4GB internal memory and a capacitive touchscreen.
You can buy the tablets from Ubislate's official website: http://www.ubislate.com/
Let us now take a look at the specs and features of the UbiSlate 7+ and 7C tablets in detail:
Cortex A8, 700 Mhz Processor with HD Video Co Processor for playing 720p videos
7 inch Display screen with 800×480 pixels resolution
Resistive Touchscreen for UbiSlate 7+ and Capacitive TouchScreen for UbiSlate 7C
256 MB RAM – which is definitely on the lower side
Runs on Android OS 2.3 Gingerbread. Given the low price of this tablet we should better not complain of the device not running Android 4.0
Internal Storage – 2GB Flash Memory for UbiSlate 7+ and 4GB Flash Memory for UbiSlate 7C
External Memory – 2GB to 32GB Supported via microSD card
Connectivity: 2 Standard USB Ports (Ver. 2.0), 3.5mm audio jack
Connectivity with SIM card, GPRS, WiFi IEEE 802.11 a/b/g
Upto 180 minutes of battery
Apart from these, UbiSlate has also partnered with a lot of mobile content providers such as GetJar, InMobi and Mango Learning to provide users a seamless experience on the device with apps and games. The tablets also have an additional feature of unlimited web-browsing using DataWind's web delivery platform for just Rs.100/month.