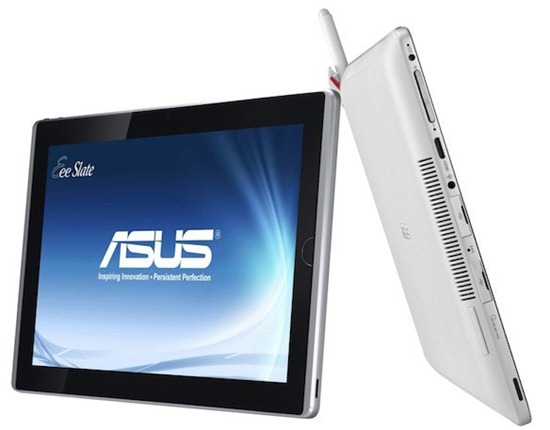 Asus was not finished with the Android tablets – they have now revealed a Windows 7 tablet. They are calling the tablet Eee Slate EP121 and compared to the other tablets out there (and just recently announced) this one is a monster in every aspect possible.
Compared to other tablets this one is huge – it sports a 12.1-inch touchscreen with a resolution of 1280×800. And there is the processor – Intel Core i5 – unprecedented in the tablet world. It remains to be seen what the giant screen and the Core i5 processor does to the battery life.
Other details includes:
– 32GB/64GB SSD storage which can be expanded
– 4GB DDR3 RAM
– 2MP camera
– Wi-Fi and 3G
– Bluetooth 3.0
– 2 USB and a mini-HDMI port
The Eee Slate EP121 is powered by Windows 7 Home Premium.
Honestly, the Eee PC Slate EP121 is more like a laptop with the keyboard removed than a tablet. The fact that it runs a full blown Windows 7 and it can run all the Windows applications is interesting. But Windows 7 was not designed for a touch screen and neither are its applications. Yes the Core i5 with 4GB DDR3 RAM is enough to run Photoshop, but will Photoshop be usable on a touch screen? Probably not.
In my opinion the size is also too large to make it truly portable and easy to use like the other tablets such as iPad and Galaxy Tab. But Asus could be looking at a different market with this thing. Who knows?
And oh, there is a shocker too – the price. At $999, it is cost twice as much as the best selling tablet till date – the iPad.
[via: IntoMobile]