ARCHOS is planning for some cheap gadgets and the Arnova G3 tablets images and specifications were some-how leaked. The gadgets have already been manufactured and it seems that some Chinese retailers are selling them away too.
Different models of 7, 8, 9 and 10 inch tablets are set for release officially. We will know about the 7-inch gadgets which might be competing with existing models.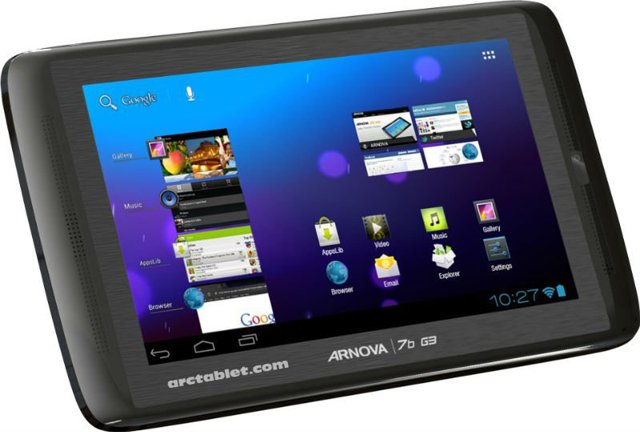 We have two 7-inch models from the company being Arnova 7c G3 and Arnova 7b G3; and two 10-inch models, Arnova 10b G3 and Arnova 10b G3 Dual Touch. Coming to Arnova 7c G3, it has a capacitive 800*480 pixels resolution,1.4 GHz Qualcomm MSM8255 processor and 1 GB of RAM.
The model also has 1 3 Megapixels rear camera and 0.3 Megapixels front camera. It weighs about 370 g and is expected to ship with Android market (talks are in progress). Arnova 7b G3 has almost all features similar to the previous model except the 1GHz RK2918 processor and will weigh about 350g.
Larger 10 inch models have 1024*600 pixels resolution with 4 GB flash memory and they carry Android 4.0 software. Availability of these gadgets world-wide is not yet known and these many models are too much at a time. Looking at the specs and features of the device, we expect it to cost around Rs. 18,000/- in Indian Currency.