Looks like Amazon has hit the sweet spot once again, this time with it's Android based Tablet called the Kindle Fire. Amazon's CEO Jeff Bazos unveiled the Kindle Fire tablet at one of the company's press events and said that the Amazon's e-commerce power will very well help the Kindle Fire tablet sales to go high and provide Apple's iPad a tough competition.
UPDATE: Amazon recently launched the new Fire Phone which stellar specs and app features.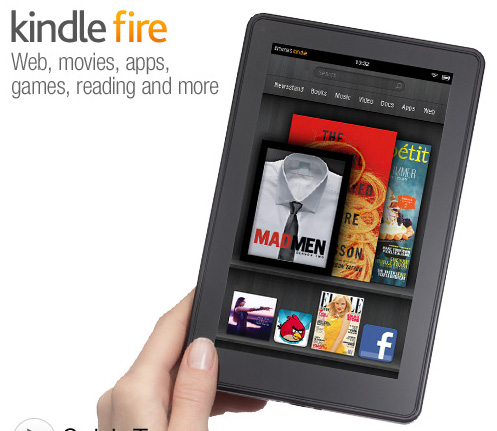 Prior to this launch Amazon has already launched many versions of it's now very famous and sought after reading device – The Kindle. So, going by this the company already has a lot of market experience when it comes to selling Tablets and as our gut feeling tells us – this new tablet from Amazon – "Kindle Fire" is here to stay.
Now lets take a quick look at the specs and the features of the Amazon Kindle Fire tablet:
7-inch IPS panel / display with multi-touch support
1024 x 600 pixel resolution at 169 ppi and 16 million colors
Gorilla Glass coating that gives that extra protection to the screen
Storage: 8GB internal memory
Weight: 14.6 ounces (Approx. 410 grams)
Runs on Android but has a really refreshing and different User Interface
Wi-Fi connectivity with Amazon Silkcloud accelerated browser.
Battery Life: Up to 8 hours of continuous reading or 7.5 hours of video playback in Wi-Fi off mode and requires 4 hours for a full battery charge
USB 2.0 Micro B Connector, 3.5 mm Audio Jack
30 Day free trial of Amazon Prime which includes video streaming
Free Amazon Cloud storage – store all your books, music, magazines for free and delete when you are done with them.
However, on the down-side the Kindle Fire does not have a camera or a microphone. Also, the current version of the tablet does not have 3G but we are sure Amazon would be launching the 3G version soon!
The Kindle Fire tablet from Amazon costs US $199 which is just about Rs. 9600/- in Indian currency plus the shipping charges from US to India. The tablet will be available for everyone to buy from November 15th 2011. However, the pre-orders have already started.