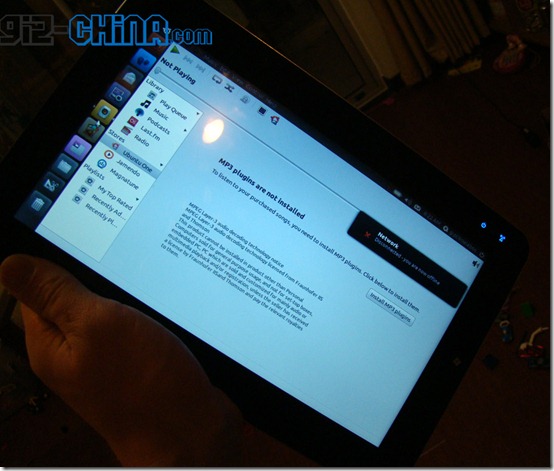 Update: Looks like the tablet is the P07 which is made by the Chinese company TENQ. It runs Windows 7 as well. Picture at the end.
2010 has been all about tablets – there is the iPad and a plethora of Android tablets – and it seems like it is going to continue to 2011.
Now it seems we have a different contender. A few days back, some pictures of an  unnamed tablet running Ubuntu has cropped up. The device is said to be running Ubuntu 10.10 Netbook Edition and the boot time reported to be almost instant.
The specifications of the device are said to be as below:
Intel Atom 1.6 GHz
2 GB RAM
32 GB SSD Hard Drive
Ubuntu Netbook Edition 10.10 "Maverick Meerkat"
10-inch Capacitive touch screen
UNE 10.10 supports multi-touch but there has been a dearth of devices which uses its multi-touch features. While I am very excited to see a tablet running Ubuntu, I do not think Ubuntu is ready for tablets yet. For now Honeycomb seems like the OS for tablets.
And another thing, in the images the button has the Windows logo. Puzzling!!
Well it looks like our mystery tablet is the P07 which is manufactured by Chinese company TENQ. The P07 was introduced earlier this year and showed running Windows 7. Here is a picture of the P07 (courtesy of wholesaleonepiece.com). Compare it with the picture of the mystery Ubuntu tablet.
Like our mystery tablet P07 also has a Intel Atom 1.6 GHz CPU, 10-inch capacitive touch screen and a 32 GB SSD hard disk.
This explains the Windows logo!
[source: Giz-China via: OMG!UBUNTU!]