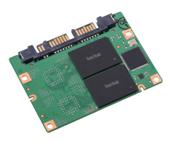 SanDisk 2nd Generation pSSD's Thin, Lightweight Form Factor and Increased Performance Enable LG to Deliver Enhanced User Experience
SanDisk Corporation (NASDAQ: SNDK), the global leader in flash memory cards, announced that the 64-gigabyte (GB)1 SanDisk® pSSDTM Gen2 was selected by LG Electronics (LG), a global leader and technology innovator in mobile communication, as the Solid State Drive (SSD) of choice for its new ultra-thin mobile PC.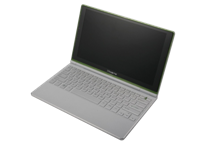 The new LG ultra-thin mobile PC combines enhanced performance with fast and accessible 3G mobile broadband connectivity. LG's device is built with compact dimensions (weighing 970 grams and measuring 298X186X17.6mm thin with an 11.6 inch LCD screen), 3.5hrs of battery life, a webcam and multiple connectivity options (USB, BT WLAN), making portable computing easy and accessible. With a Menlow platform to minimize power consumption, the device runs Microsoft's Windows® 7 operating system.
The SanDisk pSSD drive has an industry-standard 1.8″ form factor with a micro SATA interface, delivering a variety of features that complement the LG ultra-thin mobile PC.
The SanDisk pSSD drive employs the speed and reliability of the popular SATA interface to provide a high-performance, cost-effective storage solution for smaller devices like netbooks.
The SanDisk pSSD drive's lightweight, compact size (weighing up to 8.7 grams and measuring 39.8mm x 54.00mm x 4.0mm) and low power consumption (average power (typical)2 of 0.3W3) are well-matched for the LG ultra-thin mobile PC's specific requirements for a small form factor and extended battery life
SanDisk pSSD Gen2 drive comes in a variety of PATA and SATA interfaces and is available to OEMs in capacities ranging from 8GB to 64GB. More information about SanDisk's pSSD drives is available at: www.sandisk.com/pssd