When WIndows 8 finally launches for the masses, Samsung may be the first one to launch a Tablet PC running the Windows 8. We are not kidding. We are saying this because at the recently concluded Microsoft BUILD conference, Samsung was seen showing of it's latest tablet powered by the Windows 8 Operating System.
If you remember Google's I/O conference where Samsung gave away one Galaxy Tab each to the developer attendees. Samsung did the same thing at Microsoft's BUILD conference and gave away a tablet each to the developer attendees in order to help them kick-start application development for the new platform.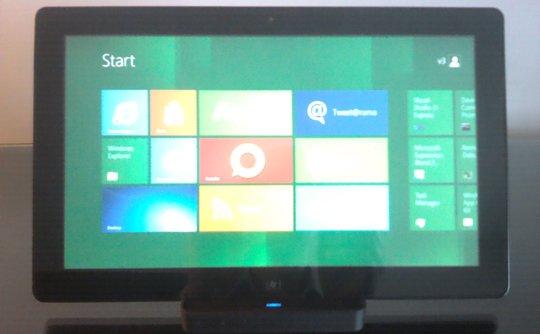 Let us take a look at the specs and features of this new (yet to be released) Windows 8 based tablet from Samsung:
11.6″ touch-screen display with a gorgeous 1,366 x 768 screen resolution
Intel Core i5-2467M 1.6GHz dual-core processor
64GB SSD (Solid State) drive
Connectivity Options: 3G mobile broadband and Wi-Fi
microSD memory card slot, one USB port, Ethernet and a micro HDMI connector
Weight: Just under 900 grams
Although it is going to take a long time before this Windows 8 tablet becomes available for general consumers to buy, looking at the awesome configurations we feel that it is going to bear a high price tag. We are looking somewhere to the north of US $900 (Rs. 40,000 Approx. in Indian Currency).
Just look at the amount of RAM which the tablet has (4GB) – this is very high for such devices. However, it might also be possible that since these tablets at the conference were meant for developers, they have such a high system config!
via Ubergizmo