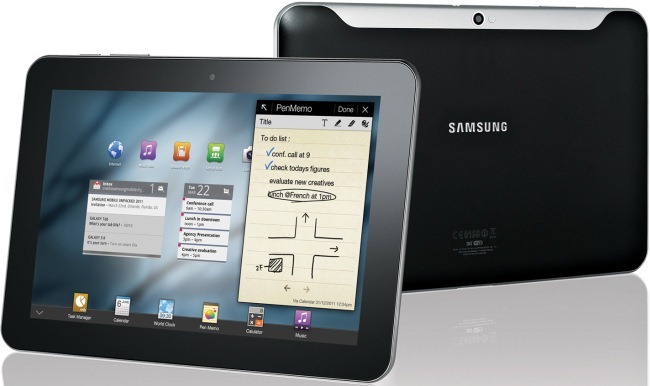 Samsung introduced the Galaxy Tab 10.1 in the CES 2011. A few months later, Apple launched the successor to its original iPad – the iPad 2. The iPad 2 has an impossibly thin body and a very competitive price, which seems to have knocked the Motorola Xoom over.
Well, Samsung has risen up to the challenge and launched a new tablet – the Galaxy Tab 8.9 – and has introduced a redesigned Galaxy Tab 10.1. With the Galaxy Tab 8.9 and 10.1, Samsung is taking on the iPad 2 with an ridiculously thin body – yes, thinner than that of the iPad. While the iPad 2 wowed every one with a thickness of only 8.8 millimeters. With the new Galaxy Tab 8.9 and 10.1, Samsung has gone thinner than the iPad 2, at a thickness (thinness?) of 8.6 millimeters. The new Galaxy Tabs are very light too – the Galaxy Tab 10.1 weights 595 grams and the Galaxy Tab 8.9 weighs 470 grams. It is lighter than the iPad 2, which weighs 600 grams, as well. According to Samsung, the Galaxy Tab is the lightest tablet in the market.
Another area where the Galaxy Tab 10.1 ans 8.9 shines is the price. Unlike the Motorola Xoom, which costs a bomb, the both the Galaxy Tabs are priced quite reasonably. The Galaxy Tab 10.1 Wi-Fi version will cost $499 for 16GB and $599 for 32GB – that is the same price as the iPad 2. The Galaxy Tab 8.9 Wi-Fi version will be priced at $469 for 16GB and $569 for 32GB. Samsung has not announced the price of the 3G versions yet, but says that they will be priced competitively as well.
Although the Galaxy Tab 10.1 and 8.9 are thin, light and cheap (compared to the other Honeycomb tablet, Motorola Xoom), it has a very good specifications as well. The exact specifications of the Galaxy Tab 10.1 and 8.9 are not available yet, but here is what we know so far:
Galaxy Tab 10.1
– Android 3.0 "Honeycomb" with TouchWiz 4.0
– 10.1-inch screen with resolution of 1280×800 pixels
– 1GHz dual core processor
– 16GB & 32GB
– Wi-Fi only version, Wi-Fi+4G version to be available later
–  6860mAH battery capable of 10 hours of continuous video playback
– 3MP camera with Flash; 2MP front facing camera
Galaxy Tab 8.9
– Android 3.0 "Honeycomb" with TouchWiz 4.0
– 8.9-inch screen with resolution of 1280×800 pixels
– 1GHz dual core processor
– 16GB & 32GB
– Wi-Fi only version, Wi-Fi+4G version to be available later
– 6000mAH battery capable of 10 hours of continuous video playback
– 3MP camera with Flash; 2MP front facing camera