You need not ask a local guy for directions in a new city now! MapmyIndia launched India's first portable 3D navigator using the GPS navigation systems which they are famously known for. They formed a reliable market base which is trust worthy and Carpad, a GPS navigation tab which was launched last year integrated Android tablet with portable navigator.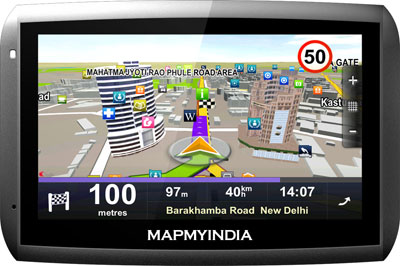 This product, Zx250 gives you reality experience with full 3D landmarks, 3D buildings and 3D elevations. It is a 12.7 cm touch screen that can also be used to play music, watch a movie and also view photos thanks to the in-built 2 GB memory which can be expandable to 8 GB. Bluetooth is also available which helps you connect you mobile phones to the device and use it on the go.
Currently, there are house level maps for 36 cities, over 6.3 million places, 3D landmarks and street level maps for 4000 cities across India. Awesome right? The MapMyIndia Zx150 3D Navigator retails at a price of Rs. 15,990/-. You can purchase Map updates at additional charges.