We are getting to see new and innovative wearable devices each and everyday – ranging from smartwatches to fitness bands and many more. This new wearable device called iSwimBand that we came across recently is by far the best of all wearable devices out there when it comes to addressing a safety concern.
Parents are always concerned about their kids whenever they enter the swimming pool or a river or any water body to swim. iSwimband consists of a headband (or wristband) which has a sensor attached to it. This sensor pairs with the your iPhone using bluetooth and you can then use the free iSwimband iPhone app in order to get alerts if your kid or any swimmer wearing the iSwimband remains submerged too long. You can also set alerts if your kids enter the water at all!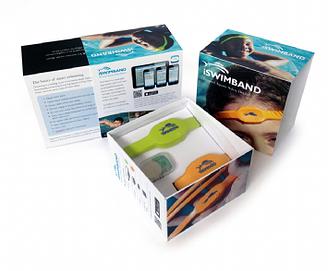 Now here is the best part. You need not use the wristband or the headband that comes with the package for it to work. You can continue using any headgear, swimcaps or swimming eyegear of choice, simply attach the iSwimband sensor to it.
The iPhone app for this sensor is free and you can pair up to a maximum of 8 iSwimbands to your phone. The sensor has a decent enough range of 33 meters or 100 foot and has been developed by veteran water safety experts. The entire package of One sensor, one headband and one wristband comes at a price of US $99. Find out more on their website.