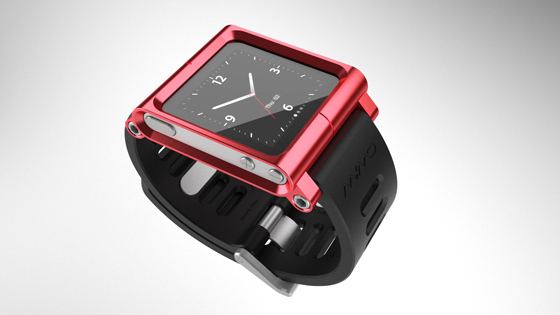 When Apple released the new iPod Nano, Steve Jobs joked that a board member planned to wear it as a watch. In fact it is about the perfect size for a watch. This idea captured the minds of many – i mean why wouldn't you want to wear a watch which plays music, has a multi-touch screen, can hold your audio books, can also work as a FM radio receiver and also as a pedometer. It is like a all in one device – and oh, it tells the time as well.
So, this resulted in a number of manufacturers bringing out a number of wrist-straps on which the iPod Nano can be clipped on to make it a watch. There is whole range of choice available already – from the $10 rubber bands to the $70 aluminium crafted LunaTik.
Just to give you an idea of how much in demand an iPod Nano watch is, consider this –  after designing LunaTik, the designer used the crowd-sourcing startup Kickstarter of Diaspora fame to raise capital. The goal was to raise $15,000 but in the end it ended up with a capital of more than $1 million. Just to put things in perspective, Facebook challenger Diaspora ended up with $200,000 through Kickstarter.
So, after starting out in late 2010, the iPod Nano watch is all set to be the hot new trend in 2011.