According to multiple sources of various reputed Industry journalists, HP is working on a tablet for Microsoft's Windows 8. The tablet is called HP Slate 8 and will run on Windows 8 Professional Operating System. Windows 8 is still not out in the market, but once it gets out, we will get to see more companies launching Windows 8 tablets in the market.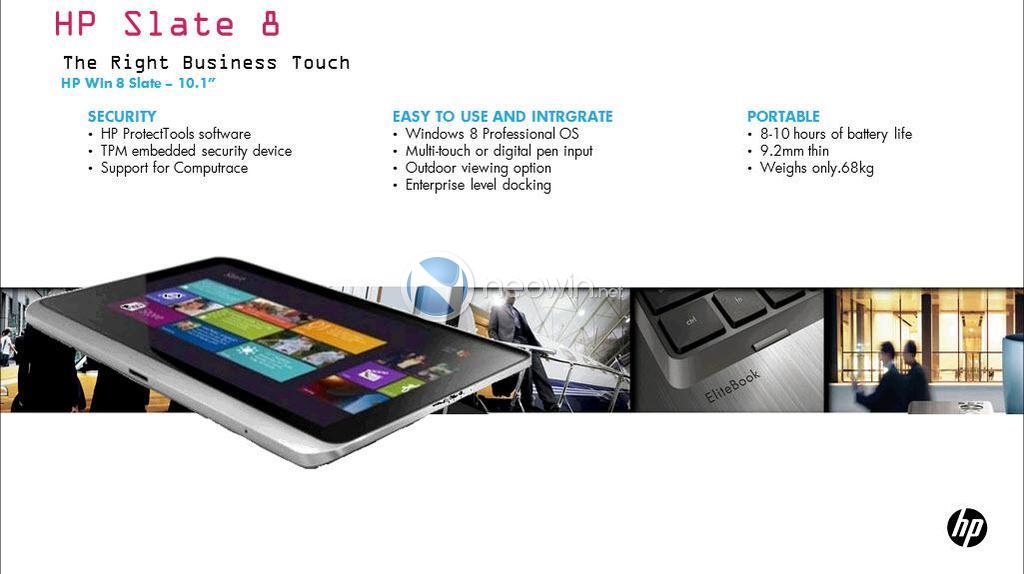 In the flier that many bloggers laid their hands on, HP has mentioned good enough details about the HP Slate 8. Let us take a look at these:
Will run on Windows 8 Professional Operating System
Processor not know but ARM based architecture will not be used
Outdoor viewing option, prevention from glare
Multi-touch and digital pen input
Enterprise level docking options
Just 9.2 mm thin (Thinner than the Apple iPad)
8 – 10 hours of battery life
Light weight device at just 680 grams
We are expecting the HP Slate 8 to launch sometime before the end of 2012. However, HP has already set a lost image of itself with its TouchPad episode, so we are not very sure if users will actually be interested in buying the Slate 8 over an iPad unless they keep the price of the device a bit lower than that of the iPad. Till what finally happens, we can just wait and watch!