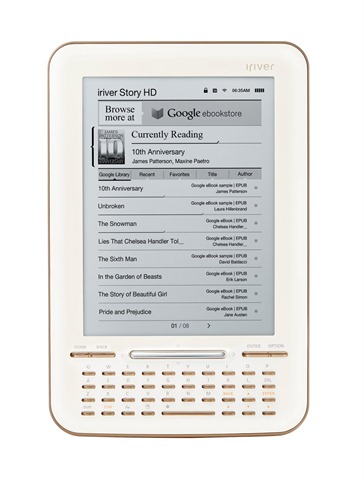 Google has announced that on July 17, the first e-reader with Google eBooks integration will go on sale at Target for $139.99. The e-reader is manufactured by iriver and is called the iriver Story HD.
The biggest selling point of the iriver Story HD is the integration of the open Google eBooks platform. Google eBooks was launched by Google in December, 2010 and it allows any device with a supported browser to read and buy ebooks. More than 250 independent bookstores already provides ebooks through Google eBooks. Having the Google integration gives the iriver Story HD access to more than 3 million free ebooks and thousands others for sale.
Because of the Google eBooks integration, owners of the iriver Story HD can store all their ebooks in the cloud and can get access to thousands of ebooks using WiFi. A cool feature that the Google eBooks reader provides is that users can pick up from where they have left off regardless of whether they are on a laptop, the iriver Story HD, a tablet or a smartphone.
The iriver Story HD is slim, lightweight and has a qwerty keyboard. It also has a e-ink screen to maximize battery life.