For the ones who have already used an Apple Computer, you must be already familiar of the fact that Apple devices these days have a high speed data transfer technology called the Thunderbolt. With a Thunderbolt port, you can transfer data at a fast speed of over 10GBps theoretically. In other words, you can say Thunderbolt is Apple's answer to USB 3.0.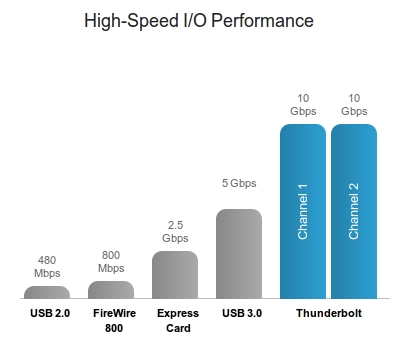 The technology behind Thunderbolt was initially built at Intel Labs with an aim of creating an incredibly fast input/output technology. However after technical tie-up between Intel and Apple, Thunderbolt finally became available to world through Macintosh computers. Now, it might be interesting to know that Thunderbolt ports offer a speed which is twice as fast as USB 3.0 and 20 times as fast as USB 2.0
Till now, as we have already said, Thunderbolt was available only on Apple computers. But according to some new rumors, Intel is planning to release the Thunderbolt technology to other PC manufacturers as well in 2012. It is also being said that Intel is working with many big PC manufacturers in order to produce motherboards for notebooks and desktop PCs equipped with Thunderbolt ports.
If this really becomes a truth in 2012, it would be interesting to see how Thunderbolt fares with USB 3.0 which has been doing the rounds off late in the PC world. Thunderbolt enabled ports would mean faster transfer speeds than USB 3.0 which makes us feel that USB 3.0 might not take off well!