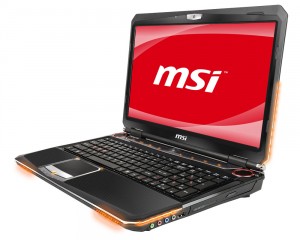 msi brings in an ultimate gaming laptop for all gaming freaks. This new laptop msi gx660 is a powerful gaming machine powered by latest Intel® Core™ i7 Processor, Genuine Windows® 7 Home Premium,DTS Surround Sensation UltraPC™, Exclusive TDE Technology,16:9 Full HD LED Display,High-end ATi Radeon™ HD 5870 graphics, HDMI (High-Definition Multimedia Interface) Output, with a Built-in HD Webcam, 802.11 b/g/ n Wireless LAN with Bluetooth.
It has Exclusive DDR3 SO-DIMM x 3 slot Design that easily Doubles Performance which provides you with the most economical means to upgrade memory capacity (12GB max), so you never again have memory issues affecting your gaming experience. The 1GB GDDR5 internal memory and the ATi Radeon™ HD 5870 graphics card provide a high-definition gaming experience that puts you right in the middle of the action sequences. Delivering full support for Microsoft DirectX® 11, the GPU enables richer and true-to-life graphics performance so that you can enjoy immersive games or movies. In addition to the Dynaudio premium sound system, the MSI GX660 also has the DTS Surround Sensation|Ultra-PC™ to achieve superior audio performance.With 500gb sata HDD memory will never be an issue.it also has a pair of usb 2.0 and usb 3.0 slots in addition to an express card slot.it has a 9-cell lithium ion battery and weighs just 3.5 kg.
This gaming monster starts at competitive price of $1369.00 . So for all of you who have thought earlier that Alienware was the only powerful gaming laptops option, msi gx660 is going to change your opinion.