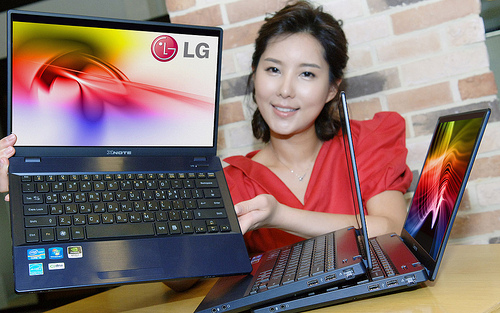 South Korean electronics giant LG, who has been making laptops for quite some time , has released a new slim laptop that packs quite a punch in South Korea. Called the X-Note P330, this ultra thin laptop is quite the looker with its striking 4.5 mm thin bezel.
The X-Note P330 comes with a 13" screen and as for the processor, a choice between Intel Core i5 or 17 is available. Interestingly, LG has decided to go with as dual storage system for this laptop. It has an SDD, from which programs can be launched quickly, and a higher capacity HDD in which you can store your data such as multimedia, games etc. According to LG, this laptop has a cold boot time of just 19 seconds – which I have to admit is very impressive.
This laptop has a thickness of 32mm – which is rather thin but does not make it an ultrabook according to Intel's definition. With a weight of about 1.7 Kg and its trendy look, carrying around this laptop will not be a problem. All these features, however comes at a premium price. In Korea, the X-Note P330 series laptop will cost between 1.5 to 2.2 million Won depending on the configuration. That translates to approximately $ 1315 to $ 1905.
The LG X-Note P330 is already available in South Korea. LG has not however made any mention as to when it will be available in the international market.
Specifications:
Processor – Second generation Intel Core i5 2435M at 2.4 GHz or i7 2640M at 2.8 GHz
Memory – 4 GB or 8GB
Graphics Card – NVIDIA GeForce GT555M 1GB
Hard Disk – 64GB SSD + 750GB HDD or 4GB express cache + 640GB HDD
Operating System – Windows 7 Home Premium 64-bit