Apple just added another patent in its super huge bag of already owned numerous patents. The only special thing about this patent is that it might put most of the Android powered mobile phone manufacturers at the risk of getting sued! When the iPhone was initially launched in 2007, Steve Jobs (Apple's founder) had demonstrated iPhone's unlocking mechanism with a lot of enthusiasm.

Since then, the so called "Slide to Unlock" mechanism has found its way not only to other Apple devices but also other phones such as the ones powered by Android and others. "Slide to Unlock" on all iOS devices is the brainchild of Scott Forstall who happens to be the Senior Vice President of iOS development and planning at Apple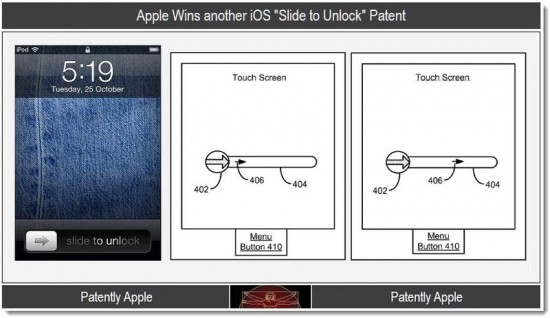 Well, "Slide to Unlock" has now been granted as a patent to Apple by the USPTO (United States Patent and Trademark Office. The patent was filed by Apple computers way back in December 2005 even before the iPhone was made public.
Now that Apple owns the patent and looking at Apple's company history regarding intellectual property rights, Apple will definitely go after companies who have implemented "Slide to Unlock" and Android looks like the first one to be on Apple's radar. Things are now going to get interesting for sure!