This may definitely come as a shock to many Apple fans and iPad users as it looks like Apple is going to bring the iPad 2 to India by the end of this month (April). Apple had released the first version of  iPad just a few months back – in the end of January. So, the users who may have bought an Apple iPad just after it made it's way into India officially in January must be cursing either themselves or Apple.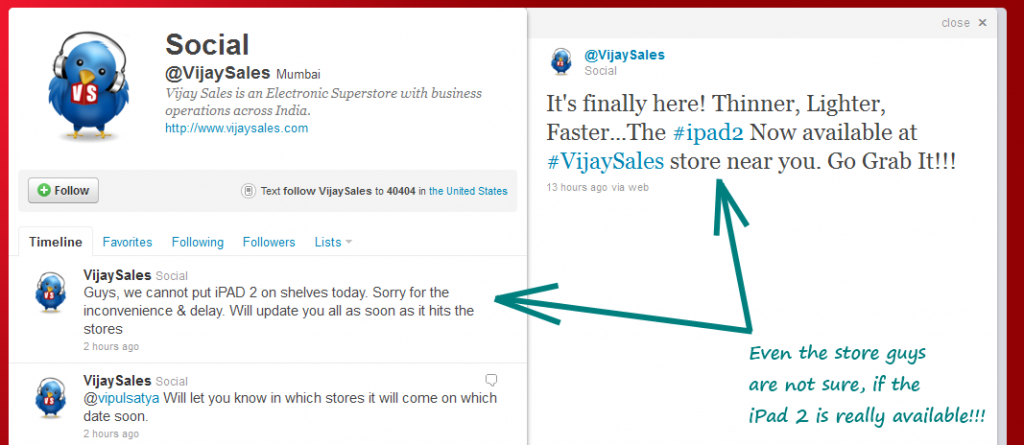 A tweet from Vijay Sales' official twitter account has confirmed the fact that the iPad 2 will be up for sale from April 28 in all their stores throughout the country. We, expect the iPad 2 to be available at the same time with other major retailers like Reliance Digital as well. Although the price has not been revealed it but it is expected to cost the same or close to the cost of Apple iPad 1!
Oh, Hell
However, some updates from the same Vijay Sales' twitter account says that the iPad 2 will be put on shelves soon, which means that the device is not yet available for sale. A lot of bloggers on the web have already been speculating this launch date for quite sometime. Now, what we can only do is wait for another launch date!
Should you go for the iPad 2
Now this question has answers for two types of users – ones who already own an iPad 1 and the others who do not own an iPad 1. So, if you happen to have already bought an iPad 1 then chill, the iPad 2 does not have any "useful for a regular user" upgrades as compared to the iPad1.
Well, if you happen to be someone, who has not experienced the Apple iPad magic yet, then you should definitely go for the iPad 2. Do let us know about your experiences with your Apple iPad devices in the comments section!