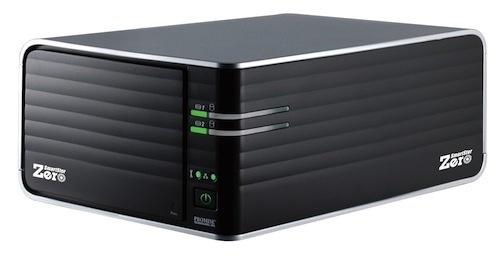 Setting up a NAS can be a pretty horrendous task (if you have ever tried setting up one, you will know what I mean). But not any more, thanks to Promise's new NAS box – SmartStor ZERO NS2600. For setting up this NAS up and running all you need to do is – 1. Connect and fire up the device 2. Install the accompanying software. Thats it. Everything from there on is taken care of. The software automatically maps the network, allowing instant access for data backup and media sharing.  The server can also function as an iTunes Media Server. Promise is claiming that this device is the first of its kind.
During the launch of the product Chi Chen Wu, CTO of Promise Technology said , "The introduction of the SmartStor ZERO is an example of how Promise is redefining and raising the technology bar within the storage landscape. Today's consumer does not want to be concerned with complicated setup procedures, media compatibility, or dealing with the process of accessibility. The consumer wants a one, two, three approach to store, share, and play music, movies, and photos without the hassle of integration."
The ZERO comes with 4TB of storage capacity provided by two drive bays.  Prices for the SmartStor ZERO NS2600 start at $279.00 and will be available by the end of first quarter of this year.