We were waiting for this badly! It is about the RIM's Blackberry playbook and its OS. For the past few weeks, there were rumours about the major features that go into the Playbook 2.0 version which is the carrier for Blackberry Playbooks. Though the number of users is less when compared to tablet units, Playbook has always been an attraction.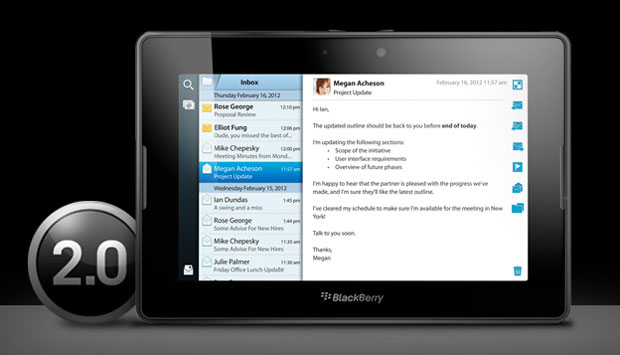 This update comes as good news to many which majorly included the much awaited integrated e-mail support Android app availability. This update will be available free for download to the existing users and new devices will be pre-updated. It is already late from the maker but as always, better late than never!
You can now use a single service which delivers all incoming messages from different social networking sites; added advantage being the integration of those with RIMs calendar and contact apps. Android apps will be available for download much to the pleasure of Android cum Blackberry lovers.
The company has also added a video store which will feature films and TV shows to buy. With MWC 2012 only a few days away, RIMs announcement of update smells like there is something big from the maker at the expo! Well, we hope so too.