With Non-renewable sources of Energy depleting day by day, solar power is one very strong contender for alternative energy sources once the Earth gets over with all it's mineral deposits. Till now we have seen many consumer electronic products such as calculators and wrist-watches which are powered by Solar Energy.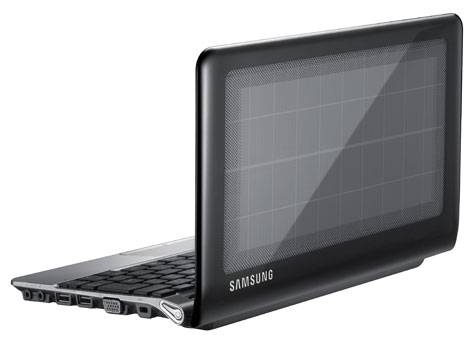 Samsung has now launched a Laptop which runs on Solar Power. The back side of the screen / display on the laptop has a full length solar panel attached to it as you can see in the picture above.
Listed below are some initial specs of the laptop:
10-inch screen with 1024 x 600 resolution and matte display
dual-core Atom N570 processor
Runs on Windows 7 Starter.
THe Samsung NC215 Solar Powered Netbook (Laptop) is available currently on Amazon via pre-order for $399 (Rs. 17,900/- in Indian Currency). Would you be interested in getting a Solar-Powered laptop for your self?
via Ubergizmo