A new image released by Crackberry.com reveals the complete new design on Blackberry's forthcoming London smartphone which is rumored to be running on the Blackberry 10 QNX-based OS, previously called the BBX. The image has been taken from a presentation slide, according to Crackberry, and reveals a phone design quite similar to Blackberry's Playbook with tablet like features.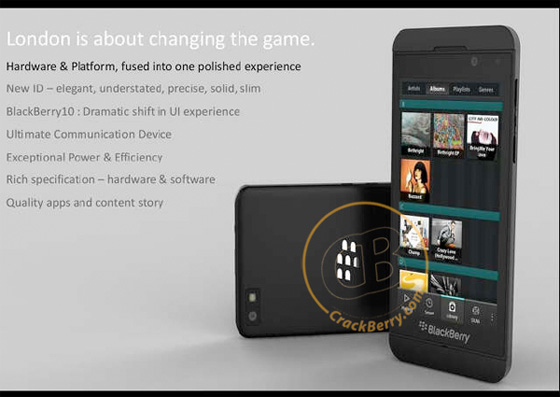 Interestingly, a previous image that was leaked on the net of the London smartphone showed an altogether different design, quite similar to the Blackberry Porsche Design P 9981, with a silver angular design. But the new image suggests that Blackberry is sticking to the traditional design sported by most Android phones. The new design is all black, sleek and slim.
The image also states a "dramatic shift in UI experience" and "exceptional power and efficiency". Clearly, if the image is of the new Blackberry, then RIM is boasting a lot many changes in the Blackberry software and hardware. This could also mean that the company has finally decided to ramp up things and compete with Android and iOS phones in the global market.
The leaked reports also suggest that the device will be launched in September or October this year, and although the specific technical specifications are unavailable, the image suggests that it will not have a QWERTY keyboard, but instead a full touchscreen, dual core 1.5GHz Texas Instruments OMAP 5 and Qualcomm chipsets.
Speculations continue, but as of now there is no official word from RIM about the authenticity of this latest image.