Lenovo has launched an All-In-One PC – the ThinkCentre E73z. For the ones who are unaware of what an All-In-One PC is, it is a computer inside your monitor pioneered initially by Apple with their iMac line of computers and since then lot of other computer companies have followed suit. Getting back to this new product from Lenovo, lets take a look at how it can help you.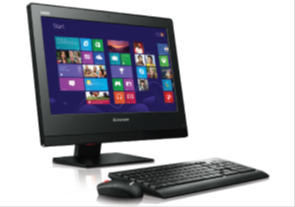 Priced at Rs. 40,000 starting, we feel this is a very good value for money buy for any home or home-office computer user owing to the amount of space that you can save (upto 70%) on your desk. You can buy this phone online on Amazon.in or Flipkart.com.
Lets take a look at the specs and features of this desktop PC now:
Runs both Windows 7 and Windows 8 Operating Systems and all their versions.
Has a 20-inch Wide LED Display with a display resolution of 1600 x 900 pixels (16:9)
Storage / Hard Disk : Up to 2 TB HDD or 1 TB SSHD or 2.5" 128GB/ 180 GB SATA SSD
Runs on Intel Core i7 Processor but options are available for the cheaper alternatives too like Core i5, i3 and Intel Pentium processor
Has an integrated 2013 Intel HD graphics display adapter
Connectivity – Two USB 3.0 ports at the front, four rear USB 2.0 ports, one VGA out port, one microphone-in and a 7-in-1 card reader
Network Connectivity – 10/ 100/ 1000 M Gigabit Ethernet, Wi-Fi and Bluetooth 4.0
Other features: 1.0 MP 720p webcam, Slim Rambo/ Slim DVD ROM SATA, Ultra slim plus wireless keyboard and USB mouse combo and integrated 2 W speakers