Seems like Infibeam.com has followed Amazon's footsteps to launch the first Made in India e-reader named Infibeam Pi. The first-look design is ditto Amazon's Kindle. But on taking a closer look, Infibeam Pi also has lot of unique features. Let us have a deep look into what the Infibeam Pi has got to offer us.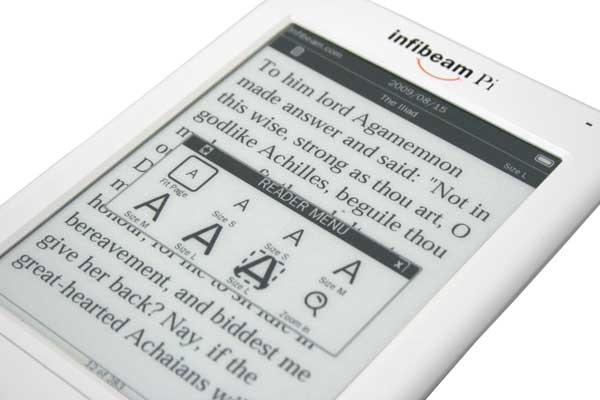 The Infibeam Pi is less than 10mm thick and at 180 grams, its even lighter than a magazine. The Pi has a 6″ E Ink display from Vizplex, that makes you feel you are reading from a paper book. The 8-level gray scale with no backlit display provides a crisp reading experience everywhere and lets you read clearly in broad daylight without any glare.
Well, one unique thing about Infibeam Pi is it's support for local Indian languages such as Hindi, Sanskrit and other regional languages. It also has support for more than 4 different font sizes.
Carry Your Library: Pi can store upto 500 ebooks in its internal storage. For the more voracious readers just add a SD card. A 4G SD card will store upto 3000 books so that you will never miss your library.
Enjoy Your Favorite Music: Now while you read your favorite author, you can also listen to your favorite band. Pi comes with a pair of earphones and supports a music library.
Games: If you ever get bored of reading you can also enjoy a game of Sudoku. Wait till we add more!
Long Battery Life: With the powerful battery you can read on for days before recharging. Use the universal 100V-240V AC adapter that comes in the package or charge via the USB cable that connects to your computer or any other USB adapter.
The device currently sells for 10,ooo INR and comes with 1 year exclusive Infibeam.com warranty. The box package contains the Pi Reading Device, a Micro-USB 2.0 Cable, AC Adapter, Quick Start Guide & Earphones. You will also be supplied with a set of free e-books to start with.