Honda is celebrating it's ASIMO Robot's 10th birthday anniversary. To mark this date, dedicated Anniversary websites and films have been launched with photos, videos and smartphone apps for Android & iPhone.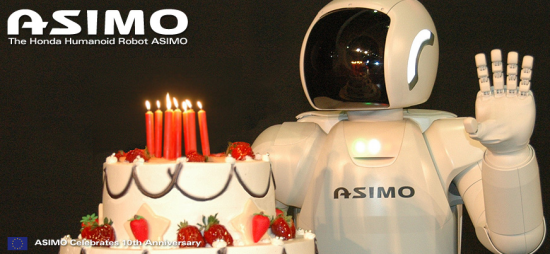 Here is a brief history about the ASIMO robot from Honda's website:
Honda's research into humanoid robotics started almost a quarter of a century ago and 14 years later, on 31st October 2000, ASIMO was created. Since its European unveiling at the Technical University of Darmstadt in June 2003, ASIMO has inspired, educated and influenced thousands of people all over the region and has gained acclaim from engineers and scientists alike.
Here is a video in honor of ASIMO's 10th anniversary, that shows a video history of Honda's robotics research, including ASIMO's development & travels.