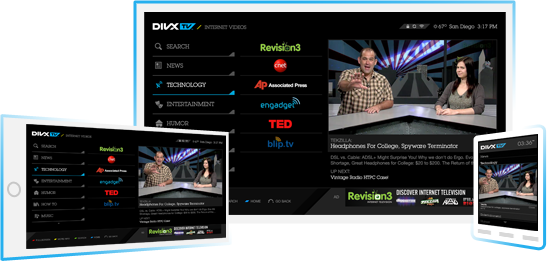 DivX bring before you the most complete digital media solution for connected consumer electronics devices. Flexible, embedded and scalable, DivX TV enables content to be streamed over the Internet onto any device from any brand creating recurring value for device manufacturers.
Some prominent features in this device that gives you a never before experience are :
Flexible — Enables IP-streaming content services on any connected device
Complete — Internet content, home network streaming and side-loaded media playback
Compelling — Broad and growing library of high-demand content
Responsive — Elegant, intuitive, lean-back navigation and viewing experience
Valuable — Supports multiple business models
Built for CE — Designed from the ground up for consumer electronics devices – no keyboard required
Consistent — Enables a consistent consumer experience across multiple ICs and device categories
Updatable — Add new content and promotions with seamless in-field updating
Scalable — Add 100s of unique channels and services without having to separately implement each one
Highly Efficient — Low processing requirements, uses mainstream CE silicon — no PC-class processor 
With DivX TV you can bring your content to new audiences
DivX TV opens up a new realm for content spanning the living room, mobile devices and beyond. By partnering with DivX, you can realize broad multi-device distribution with little to no change to your existing web video feeds. Featuring a user-friendly interface and easy-to navigate channels and genres, DivX TV encourages content discovery, drives views and creates active, engaged users, enhancing your existing online business models.
Here are some special advantages that you get with DivX TV that you havent imagined with any other device
Easy Integration — Requires little or no change to your existing video feeds
A New Experience — Bring a TV-like viewing experience to your web content
Broad Distribution — Expand into the living room, mobile devices and more
Ad Variety — In-stream video and display advertising support
Security — Supports your DRM solution to keep content secure
Today, DivX TV is available exclusively on the BD550, BD570 and BD590 Blu-ray players from LG for sale in the United States. Get the most out of DivX TV from watching the Get Started with DivX TV video, finding out what shows are available and checking out where you can buy the LG Blu-ray players featuring DivX TV.
source: www.divx.com