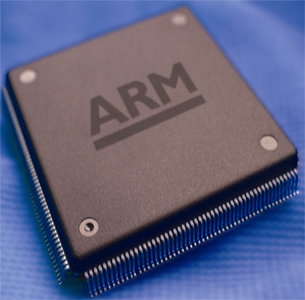 ARM has introduced a new processor that will change mobile devices as we know it.
The new ARM Cortex-A9 Processor boasts of upto 4 cores and a 2GHz frequency. The number of cores can be reduced by the manufacturer according to requirements.
Samsung has already announced a new processor based on the ARM Cortex-A9. They have named it Orion and it has two cores and a frequency of 1GHz. The Orion can encode and decode 1090p video at 30 fps. Samsung also claims that it has five times the 3D graphics performance of their Hummingbird processor, which is currently considered to be the fastest processor for mobile devices.
Now when will we get a processor cranked all the way up to 2GHz and four cores? 😀