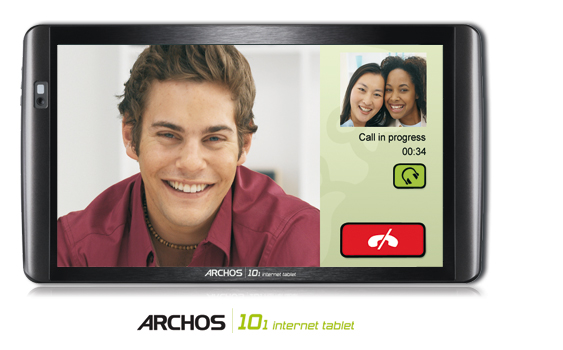 Most of you have wondered about netbooks because of their portablilty and relevance.Here we have got a device which is a generation ahead. Archos Android™ tablet tablet is one such device based on android operating system from google which gives super cool interface and a smart computing.This device is sure to turn the scenerio of personal computing in coming time.
With a built-in webcam (to stay in touch with your friends and family thanks to live video chat), an ultra-powerfull processor, WiFi connectivity, and multiple connections (USB Host/Slave, Micro SDHC, HDMI output…), the ARCHOS 101 internet tablet has everything your PC has. It's very easy to connect an external keyboard or a mouse (ARCHOS external wireless keyboard with touch pad sold separately). For Email, you be delighted to finally have the choice between a full-sized on-screen keyboard and an external one.
You'll benefit from a full width and superfast display of the web pages with the high resolution screen (1024 x 600 pixels) and the high-speed processor running at 1GHz. The browsing experience is made even more intuitive with the Android™ browser. Tap a part of the text that you're interested in and the display will be automatically resized to the paragraph you want to read. You can also easily check your emails at any moment with the Android™ email client which gives you the possibility to manage all your email accounts (Gmail, Yahoo!, etc).
Browse through your photos with a simple flick of your finger or play a slideshow of your last vacation with music and transition effects. You can even display the pictures that your friends uploaded to Facebook™ or other photo sharing websites. The high resolution screen perfectly reproduces each picture in such detail that you can easily zoom in to see the tiniest of details, there's no limit.
There's a full-sized USB connector on the side of the device to let you transfer all your multimedia content. There is also a USB host connector to directly transfer your files without using a PC.Want to be connected anywhere? Just plug your mobile phone equipped with 3.5 G & Bluetooth™ technology, simply pair it up to your ARCHOS 101 internet tablet via Bluetooth™ or even via USB cable. This will give you easy access to Internet directly on your device anytime and anywhere. There's no need to pay an extra fee when you already have a data service plan.
Technical specifications
Product capacity Internal : 8 & 16 GB**** flash memory, External: Micro SD Slot (SDHC compatible)
Application Framework : Android 2.2 Froyo7
Processor : ARM Cortex A8 at 1 GHz with DSP
Graphic accelerator: 3 D OpenGL ES 2.0
Video Playback :MPEG-42 HD, MPEG-42, H.264 HD , WMV9/VC1 , M-JPEG in VGA resolution, MPEG-2
With the above codecs, the device can play almost all video files.
Audio Playback : all standard music files .
Photo viewer : JPEG, BMP, PNG, GIF
disk space : Micro SD (SDHC compatible) HDMI output (Mini HDMI / HDMI cable )
Communication protocols: Wi-fi, Bluetooth 2.1 EDR
Miscellaneous: Built-in speaker Built-in leg stand ,Built-in Microphone ,G-sensor ,Front VGA camera
Power source Internal: Lithiumbattery, External: Power adapter/charger
Battery life : Music playback time: up to 36 hours, Video playback time6: up to 7 hours, Web surfing6: up to 10 hours
Package includes ARCHOS 101 internet tablet, earphones, Standard USB cable, Quick Start Guide (QSG), legal and safety notice, power charger.
Price is not yet declared officially in India , we are expecting it to be declared soon