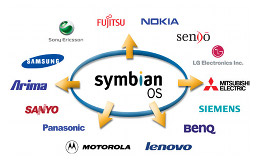 In the mobile OS world, the top spot which is held proudly by Symbian , is about to shake a bit, as Sony Ericsson has planned that, it will no longer be running Symbian in their smartphones and rather switch to Android.
"We have no plans for the time being to develop any new products to the Symbian Foundation standard or operating system" , quotes Sony Ericsson spokesman Aldo Liguori.
If you look at the numerical figures , it clearly shows Symbian as the king, but research predicts that by 2014 Android will take over the top spot. About 40% of the market is held by Symbian followed by Android at 17%. The large proportion of Symbian is mainly due to Nokia's majority of smart phones running it . But 3 years down the line, we will see a different picture.
Sony Ericsson is a member of the Symbian Foundation which was setup in 2008 by Nokia to allow chip makers and OEMs to share code with one another. Despite dropping support for Symbian, Sony Ericsson will still remain the member of the foundation.