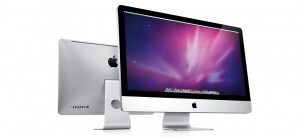 Apple launched its superior range of iMac desktop system.The earlier configuration of iMac is now upgraded with Intel's 2011 Sandy Bridge quad-core processors, AMD Radeon graphics and thunderbolt connectivity.Thunderbolt connectivity is the New input/output technology that lets you connect high-performance peripherals and high-resolution displays to a single port with fast data transfer rates.
The 21.5 inch model is available in two variants: One having a 2.5GHz quad-core intel i5 processor, AMD Radeon HD 6750M graphics and 500GB hard drive space.It is available at a base price of $1,199 and the second one with 2.7 GHz processor,AMD Radeon HD 6770M and 1TB of hard drive storage.It is priced at $1,499.Also the new 27-inch iMac is having two models as well,One with a 2.7 GHz quad-core Intel Core i5, AMD Radeon HD 6770M and 1TB hard drive at a price of $1,699 and second one 3.1 GHz quad-core Intel Core i5, AMD Radeon HD 6970M and 1TB hard drive at a price of $1,999.There is also an option of configure-to-order to Intel Core i7 processors up to 3.4 GHz, additional hard drive capacity up to 2TB, a 256GB solid state drive and additional DDR3 memory.
The new model comes with a FaceTime HD camera for video call between other macs and iPhone 4/iPad 2,standard SD card slot and IPS display.The 27 -inch model has two thunderbolt port which doubles as Mini DisplayPort connector and both 21.5-inch and 27-inch models come with FireWire 800 port and four USB 2.0 ports, gigabit ethernet and audio in/out,Integrated WiFi a/b/g/n and Bluetooth 2.1+EDR.you also get a choice of Magic Mouse/Magic Trackpad along with the wireless keyboard.The new iMac is available through the Apple Store® (www.apple.com), Apple's retail stores and Apple Authorized Resellers.
via: [Slashgear]