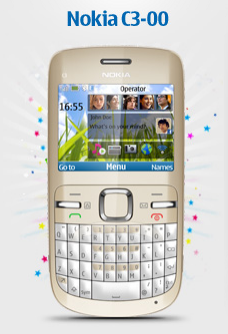 When we talk about Nokia, the first thing that comes to mind nowadays is their struggling smartphone business. Nonetheless, Nokia is still one of the world's largest manufacturer of mobile phones and, so, it is no surprise when they announced that they are about to roll out their 500 millionth phone. Yes, that is right – 500 million or half of a billion.
The historic Nokia phone will manufactured in its factory in Chennai, India. Nokia is selling the phone – a Nokia C3-00 – to the highest bidder. Nokia has roped in Bollywood superstar Shahrukh Khan to sign the phone and hand deliver it to the highest bidder. The highest bidder will also get to travel to Kolkata to watch the Indian Premier League match between the Kolkata Knight Riders and Mumbai Indians.
As of the time of writing this, the highest bid for the phone is Rs. 2,93,074 (around $7000). Normally the Nokia C3-00 cost around Rs 5,700 in India. Nokia is not taking the money from this auction, however. They have announced that they will match the winning bid and donate the the sum to charity.
The bidding will go on till 15th May 2011. So, if you have Rs 3,00,000 to burn, you might want to click on this link and place a bid to own Nokia's 500 millionth phone.