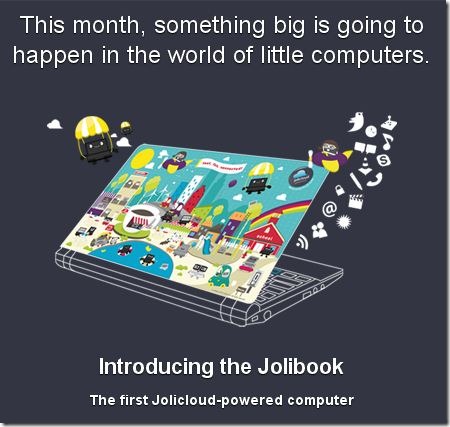 Recently we reported that the Jolicloud team may be working on a Jolibook. Well, now it has been been confirmed that they are indeed working on a Jolibook. The Jolicloud team sent us an email last night announcing the Jolibook will be available this month.
If you do not know, Jolicloud is a cloud based Linux operating system designed for netbooks. I dare say that it is one of the best OS out there for netbooks. It has an amazing interface based on HTML5 and a lot of interesting features like app synching across different systems running Jolicloud.
Jolicloud had been available for download and to install in netbooks for quite sometime now, but this is the first time that they are shipping it pre-installed in a netbook.
Hardware-wise the Jolibook is powered by a dual core Atom N550 processor and have a 250GB hard drive. It will come preinstalled with Jolicloud 1.1 and apps like Facebook, Spotify, VLC, Skype are installed by default – a lot of other apps are just a click away. And yes it looks like it will have that funky design on the lid.
Details regarding price, availability etc. are not available at the moment. We will update as soon as we know of these details.
All in all Jolicloud is an excellent OS for netbook and if they price it reasonably, you should definitely take a look at the Jolibook if you are looking for a netbook this holiday season.