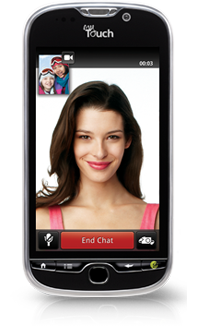 CES has always been the place where you  get the hang of amazing and innovative new technology. Carrying forward our series of articles covering CES 2011, we have this one covering 4G handsets.
HTC has already confirmed bringing up their 4G  LTE-based handset at CES 2011 on January 6th,Now T-Mobile is coming with a superb array of 4G related stuffs just to put everyone for wonder.In  a recent interview the Senior Director of Engineering , Mark McDiarmid gave us an insight about the wireless carriers plan for HSPA+, and their aim to clock a breathtaking 44Mbps.Currently their plans are to provide faster networks in Vegas.And also that this technology will be implemented into smartphones next year.
Currently the company is focusing on Android 4G and one of such set is also running as a trial mode in some places.The phone is called myTouch 4G.The prominent features of this 4G enabled phone is amazingly fast 4G speeds and video chat with or without Wi-Fi.It also has a HD camcorder.It also has a   Genius Button™  that lets you call, send, search, and find as you speak, it will act.
It also boasts a great costumer support as with  enhancements of key features, upgrades to Android, and tips on how to get the most out of it, your myTouch improves over time.Its avaliable at $250(prices may vary according to plan and services). S0 T-mobile is all prepared to steal the show in 4G Android category.So Lets  see what more they bring on this time.
via Slashgear, source T-Mobile