UPDATE: Sony Xperia Play Now costs Rs. 21,500/- on Flipkart. Want to buy now?
The Sony Ericsson Xperia Play is a very unique Android device. It has been designed as a gaming device and as a result, instead of a keyboard it has a gamepad with the standard PlayStation buttons. The device is powered by a 1GHz Snapdragon processor and runs Android 2.3 "Gingerbread". It has a 4-inch screen and is the first PlayStation certified mobile phone.
The Xperia Play is not available in stores yet. However, if you are one of the people in India who would like to get your hands on this device, it is available for pre-order at Flipkart. According to Flipkart, you can place a pre-order for the device at a price of Rs. 32,000. The device is expected to be available from the second week of April.
Pre-order Sony Ericsson Xperia Play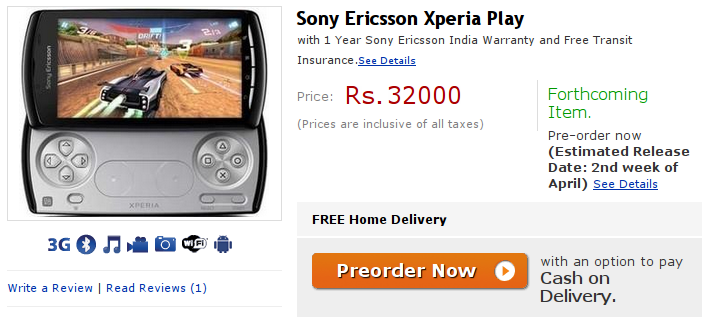 I, personally, think that Rs. 32,000 is a bit too much for this device. However, if you plan to use this phone primarily as a gaming device, this might be a good phone for you.