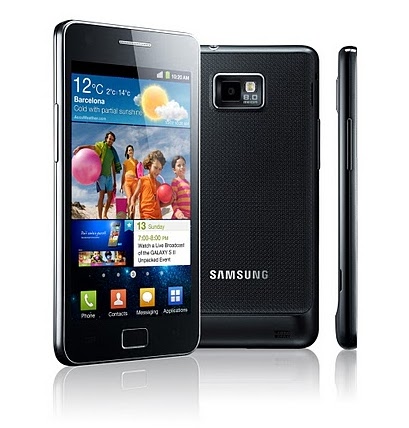 After a series of leaks, Samsung has officially released the successor to its Galaxy S smartphone. As rumored earlier, the Galaxy S II packs in a 1GHz  dual core Exynos processor (formerly known as Orion processor) and 1GB of RAM. The Galaxy S II runs on Android 2.3 "Gingerbread" and also supports NFC.
Most of these features match with what we had been expecting. However, one thing about the Galaxy S which every leaks missed is its thickness – or rather its thinness. The original Galaxy S is already a very slim device at 9.9 mm. However, with the Galaxy S II, Samsung is pushing the limits of how thin they can make the device. The Galaxy S II has a thickness of only 8.49 mm – and because Samsung has adopted the plastic body here as well, it is said to be very light as well.
Aesthetics aside, because of the dual core Exynos processor and the 1GB RAM, the Galaxy S II is one very powerful device capable of recording video at 1080p. The Exynos processor is said to be faster than the NVIDIA Tegra 2. So, it will be interesting to see how it stacks up against the devices from other manufacturer, most of which are Tegra 2 based.
The only cause of complaint could be the screen resolution. Although the screen of the Galaxy S II measures 4.3 inches against the original Galaxy S which measures 4 inch, it has the same resolution of 480×800 px. However, the screen used in the Galaxy S II is Super AMOLED Plus. It no longer uses the pentile matrix found in Super AMOLED and has instead opted for the 'real' RGB matrix (or Real-Stripe as Samsung calls it) in Super AMOLED Plus. So, even though the pixel count remains the same, the Super AMOLED Plus should be clearer.
The Galaxy S II is expected to be available in Asia and Europe by next month.
Specifications:
– 4.3-inch Super AMOLED Plus Screen at 480×800 resolution
– 1 GHz dual core Exynos Processor (formerly known as Orion processor)
– 1 GB RAM
– 8 MP Camera capable of recording video at 1080p
– 2MP Front facing camera
– Android 2.3 "Gingerbread" with TouchWiz 4.0
– NFC
[sources: Engadget, everythingandroid, OLED-info]