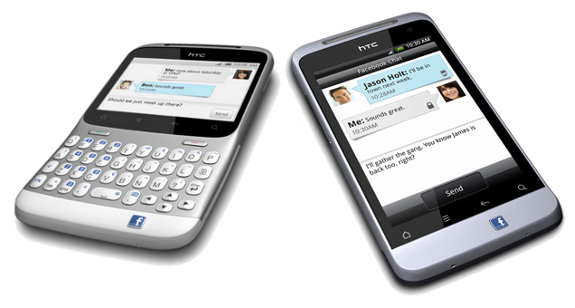 Remember the HTC phones with Facebook integrated in an interesting way? Well, HTC has finally released them today at the Mobile World Congress.
Named the HTC Salsa and HTC ChaCha, these two phones features a lot of Facebook integration and are quite clearly aimed at the common internet users who spend a lot of time online on Facebook. The defining feature of these two phones is the dedicated Facebook hardware key. There is nothing spectacular about the hardware of these two phones and they would fall under the entry level category.
The difference between the two phones is that HTC Salsa is mainly a touch oriented device and has a larger screen and no hardware keyboard while HTC ChaCha has a smaller screen and had a hardware keyboard in a Blckberry-like form factor.
Both these phones are powered by a 600MHz and has 512MB RAM. They come with 512MB of ROM onboard and the storage can be expanded using microSD cards. Both the Salsa and ChaCha have a 5MP camera and a VGA front facing camera for video calling. Both runs on Android, although it is not yet clear which version. The battery, though, is different. The Salsa has a 1520mAh battery while the ChaCha has a 1250mAh one. However, the battery life is not significantly different as the ChaCha has a smaller screen.
More Specs, Pictures & Videos of HTC ChaCha, HTC Salsa