Samsung recently launched yet another low cost Galaxy mobile phone, the Samsung Galaxy Q. A few days back Samsung had launched the Galaxy Precedent at a really low price of around USD 150. However Galaxy Q is a full 90$ more expensive than the Precedent and retails for a price of $249/- which works out to Rs. 11,500/- in Indian currency.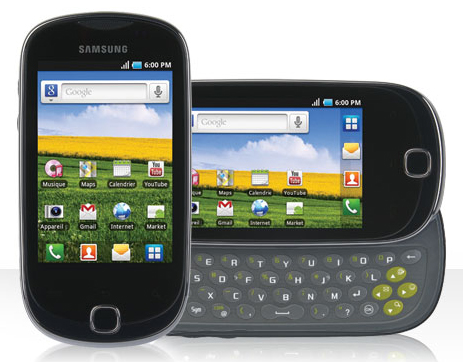 Let us now have a look at the specs and the features of the Galaxy Q smartphone from Samsung:
Runs on Android 2.2 Froyo. We would expect Samsung to push a fast upgrade to Android 2.3 Gingerbread as Froyo is a bit old now.
3.2-inch HVGA capacitive touchscreen display at and 320 x 480 pixels resolution with support for 16 million colors.
3 Megapixels camera with a decent 3X digital zoom and ability to record videos.
The phone also has a full QWERTY, slide-out keypad along with the Touchscreen.
Dimensions: 5.87cm by 11.4cm by 1.4cm; Weight – 135 grams.
The phone has a decent battery that offers upto 13 days of standby time, 5 hours of talk time or 8 hours of music playback.
On the downside, the phone has only 100 MB of internal memory. However you can expand the memory up to 16GB using microSD cards.
Please note that the prices we have mentioned above is without any contract. You can snap up the device for a a cool $49 with contract from certain carriers. Please find out more from your local dealer.